Last ads
06.02.2019

100

25.09.2018

25.09.2018
All ads
Private ads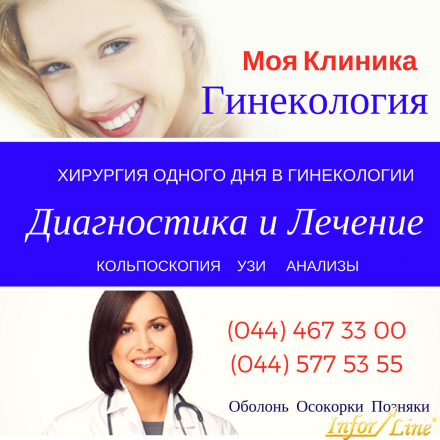 Contacts
Anna
Kiev region
Obolonsky area
Kiev
Heroes of Stalingrad, 20
+38(067)4695994
+38(044)4673300
The action from the medical center My Clinic
For you, dear women, a special offer has been prepared from the operating doctors of Gynecologists Fedulov Oleg Stanislavovich and Zhidkov Vadim Vladimirovich.
Free pre-surgical consultation, which is conducted by an experienced and qualified gynecologist - surgeon
This proposal includes the consultation of a doctor of a gynecologist - surgeon with an examination. The doctor will listen and answer all your questions related to your state of female health and offer you the best possible options for solving problems with reproductive health.