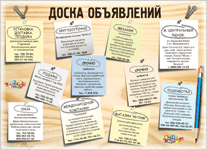 Last ads
06.02.2019

100

25.09.2018

25.09.2018
All ads


Pharmacy «Healthy Family»
« Back
Contacts
Kyiv, ave. Generala Vatutina 2а
tel.: (044) 541-23-22
fax.: (044) 541-26-55
Pharmacy «Healthy Family»
Our Pharmacy №1 PP "Family Health" was launched in August 2009. The main motto of our company is - "Quality, professionalism and availability".
our pharmacy you can buy only quality products. This is achieved by the fact that we buy medicines from reliable companies that provide serially drugs control. Also under permanent surveillance of counterfeit and defective batches, making it impossible to hit the pharmacy.
Employees of our pharmacies have sufficient work experience and are constantly improving their skills. They provide you with adequate information on the medicinal product, will help with the selection of drugs, consult about the first predoctor aid in different cases, will measure the pressure free. Professional worker is the main measure in the selection of the staff for our pharmacy. Availability of medicines in our pharmacy is provided by rather low prices, as well as the funded discount program, it gives opportunity to save from 5 to 10 percent on the whole range of pharmacy.
We notify that SELF-MEDICATION MAY BE HARMFUL TO YOUR HEALTH!
Page views: 8891